Various — Sueño! The Essential Mediterranean Dancetrax (LP)
виниловая пластинки Various - Sueño! The Essential Mediterranean Dancetrax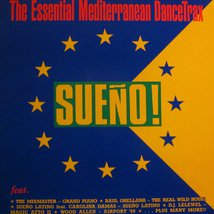 Альбом:
Sueño! The Essential Mediterranean Dancetrax
Лейбл:
BCM Records (UK) Ltd.
Тип:
Оригинальное издание
Формат:
LP
Одна LP (Long Play) виниловая пластинка
Дополнительное описание
A1. Raul Orellana - The Real Wild House
A2. L.A.N.D.R.O. & Co. - Belo E Sambar
A3. Wood Allen - Airport '89 (Club Mix)
A4. Rosso Barocco - Never Gonna Give You Up
A5. E.J. Robinson - (Theme From) Rain Man (Dance Version)
B1. Sueño Latino Feat. Carolina Damas - Sueño Latino (Cutmaster-G Mix)
B2. El Chico - House Music Lovers (Club Version)
B3. Mixmaster - Grand Piano
B4. D.J. Lelewel - Magic Atto II (The Deep)
B5. BCN Orchestra - ¿Quien Tu Te Crees?
Интересные виниловые пластинки