Hans Zimmer — Live In Prague (4xLP, цветная)
виниловая пластинки Hans Zimmer - Live In Prague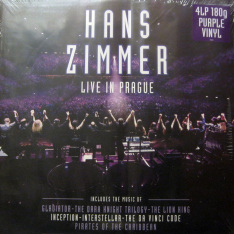 Тип:
Официальное переиздание
Формат:
4xLP
Четыре LP (Long Play) виниловые пластинки
Особенности:
180 gr. vinyl
,
Compilation
,
Gatefold sleeve
,
Limited edition
Дополнительное описание
Driving Miss Daisey
A1 - Driving
Sherlock Holmes
A2 - Discombobulate
Madagascar
A3 - Zoosters Breakout
Crimson Tide
A4 - Crimson Tide
Angels And Demons
A5 - 160 BPM
Gladiator
B1 - The Wheat
B2 - The Battle
B3 - Elysium
B4 - Now We Are Free
The Da Vinci Code
C1 - Chevaliers De Sangreal
The Lion King
C2 - Circle Of Life (Reprise)
C3 - King Of Pride Rock (Reprise)
Pirates Of The Caribbean
D1 - Captain Jack Sparrow
D2 - One Day
D3 - Up Is Down
D4 - He's A Pirate
True Romance
D5 - You're So Cool
Rain Man
D6 - Main Theme
Man Of Steel
E1 - What Are You Going To Do When You're Not Saving The World
The Thin Red Line
E2 - Journey To The Line
The Amazing Spider-Man 2
E3 - The Electro Suite
The Dark Knight Trilogy
F1 - Why So Serious?
F2 - Like A Dog Chasing Cars
F3 - Why Do We Fall?
F4 - Introduce A Little Anarchy
F5 - The Fire Rises
F6 - Aurora
Interstellar
G1 - Day One
G2 - Cornfield Chase
G3 - No Time For Caution
G4 - Stay
Inception
H1 - Half Remember Dream
H2 - Dream Is Collapsing
H3 - Mombasa
H4 - Time
Интересные виниловые пластинки
Купить виниловую пластинку Hans Zimmer - Live In Prague (4xLP, Европа) в состоянии Sealed(конверт)/Sealed(винил) можно через сайт нашего интернет-магазина с доставкой по всей России и СНГ. Альбом «Live In Prague» издан лейблом Eagle Records, год выпуска пластинки 2020, производство Europe (Европа). В него вошли такие песни как: «riving Miss Daisey», «The Wheat», «rimson Tide» и другие.